Fortis ceramic coated razor blades
Ceramic coated razor blades
FORTIS razor blades are stainless steel blades with a special treatment for industrial use. The cutting edges are additionally protected with an extremely hard coating, increasing the wear resistance and decreasing the friction with the film.
It gives you a stronger razor blade that lasts longer. This ensures a cleaner, straighter cut and of course, smoother winding and unwinding. 
Don't waste your time replacing blades every few hours! Experience the Fortisblades and select now your free samples below. Choose the right razor blade for your specific cutting application.
You will find different types of razorblades: type Gillette, three hole blades, slotted blades, injector blades; single edge and double edge.
And different thicknesses: from 100µ to 400 µ.
20.80.015-025 Injector Blade
Dimensions of blade:

38 x 8 mm

Thickness of blade:

0,25 mm / .010"

Quality of blade:

Fortis

Packing:

Plastic box
20.80.055-010 Razor Blade type Gillette
Dimensions of blade:

43 x 22 mm

Thickness of blade:

0,10 mm / .004"

Quality of blade:

Fortis

Packing:

Blue safety box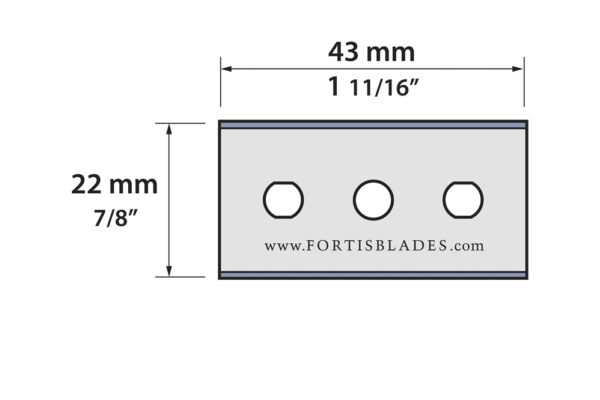 20.80.082-010 3-Hole Razor Blade
Dimensions of blade:

43 x 22 mm

Thickness of blade:

0,10 mm / .004"

Quality of blade:

Fortis

Packing:

Blue safety box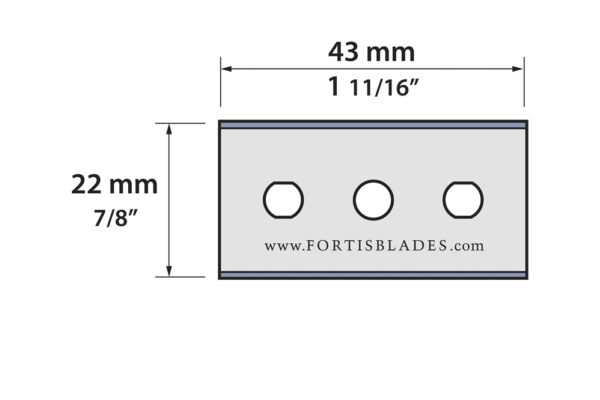 20.80.082-015 3-Hole Razor Blade
Dimensions of blade:

43 x 22 mm

Thickness of blade:

0,15 mm / .006"

Quality of blade:

Fortis

Packing:

Blue safety box
20.80.082-020 3-Hole Razor Blade
Dimensions of blade:

43 x 22 mm

Thickness of blade:

0,20 mm / .008"

Quality of blade:

Fortis

Packing:

Blue safety box
20.80.082-030 3-Hole Razor Blade
Dimensions of blade:

43 x 22 mm

Thickness of blade:

0,30 mm / .012"

Quality of blade:

Fortis

Packing:

Blue safety box
20.80.767-040 Slotted Razor Blade - Single Edge
Dimensions of blade:

57 x 19 mm

Thickness of blade:

0,40 mm / .015"

Quality of blade:

Fortis

Packing:

Blue safety box
20.80.837-040 Slotted Razor Blade - Double Edge
Dimensions of blade:

57 x 19 mm

Thickness of blade:

0,40 mm / .015"

Quality of blade:

Fortis

Packing:

Blue safety box
20.80.856-020 3-Hole Razor Blade 60mm
Dimensions of blade:

60 x 22 mm

Thickness of blade:

0,20 mm / .008"

Quality of blade:

Fortis

Packing:

Blue safety box
20.80.881-040 Slotted Razor Blade - Double Edge
Dimensions of blade:

57 x 19 mm

Thickness of blade:

0,40 mm / .015"

Quality of blade:

Fortis

Packing:

Blue safety box